Are You Prepared??
Almost all investors have experienced amazing results over the past few years, with their portfolios growing significantly regardless of what investments they held.  Not only did portfolios increase in value, but they accomplished that growth with very little fluctuation.  Hopefully this describes your experience too.  It has been a fun, easy ride for investors recently, but it's highly unlikely for this to continue much longer…  If you want to ensure the health of your retirement, or even your ability to accomplish other near term goals over the next few years, be sure to consider the following points carefully – your financial future is on the line.
Your portfolio must've been doing pretty well over the past couple years.  Most major asset classes have experienced strong returns recently. That's the case whether you just look at the past 12 months or at the entire period of time since the market hit rock bottom in March of 2009.  More specifically, the S&P 500 returned nearly 17% over the past year, which is impressive in itself, but even more staggering is the fact that investing in the S&P 500 when it was actually cheap in 2009 would have returned a whopping 21.3% per year on average!
Can you honestly expect these unbelievably strong returns to continue indefinitely… or even just for another couple years?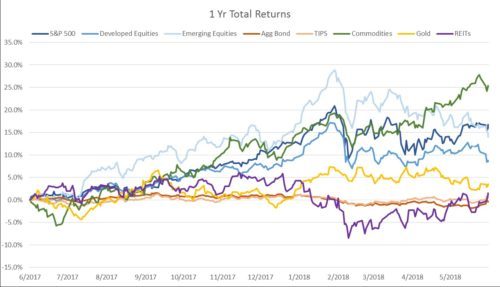 Source: Morningstar Direct daily total return data for SPY, EFA, EEM, AGG, TIP, DBC, GLD, & ICF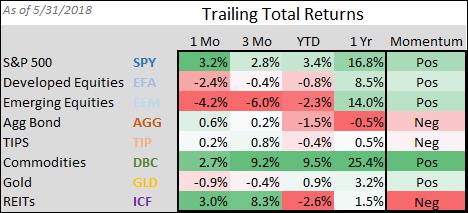 Source: Morningstar Direct daily total return data for SPY, EFA, EEM, AGG, TIP, DBC, GLD, & ICF.  Momentum is measured by calculating whether the 3 month moving average price is higher than the 10 month moving average price for a given security.
Your portfolio is probably dominated by pretty expensive/overpriced investments.  Most investment asset classes became significantly more expensive as a result of prices going up across the board since 2008.   Given these currently overvalued or downright expensive asset classes right now, portfolio returns are expected to be muted over the coming years.
Are you aware of how much the health of your retirement and your other financial goals will be affected by these weaker than average returns over the next decade? Will you still be able to accomplish your goals if your portfolio is currently positioned to only return an average of 2% over the next 10 years?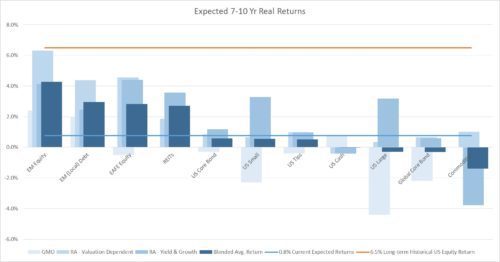 Source: GMO 7-Year Asset Class Real Return Forecasts and Research Affiliates Asset Allocation Interactive Data as of 5/31/18
Your portfolio probably hasn't returned much since the start of 2018.  There have been indicators of strong momentum for many asset classes over the past few years, even though it appears to have begun slowing down a bit more recently.  The climb higher has slowed down to a crawl for many asset classes.  Additionally, following a period of unprecedented low volatility (i.e. risk) in markets in 2017 when investors just sat back and enjoyed the ride, it appears that volatility is creeping back into markets.  If markets return back to more normal levels of riskiness, your investment portfolio would easily fluctuate twice as much as they did last year, or possibly many more multiples of that risk if we experience a market crash in the near future…
Are you ready for the next market crash? Do you have a plan for how to handle your finances to prepare for the crash, and how to successfully navigate out of it?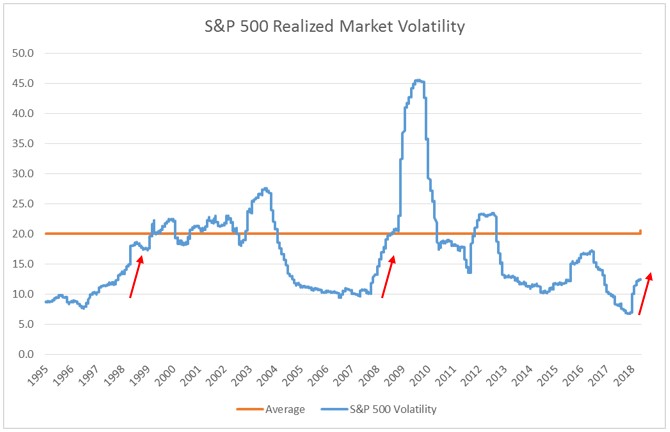 Source: Morningstar Direct daily close data for S&P 500 TR Index, my calculations
Like most US investors, you probably have the vast majority of your investment portfolio in US equities and not very much global diversification.  During this difficult investment environment, one of the best ways to add value is to tilt investor portfolios in favor of asset classes with the greatest opportunity set (i.e. emerging market & developed international equities).  Similarly, look to use relative valuation indicators to reduce portfolio risk from asset classes that have the lowest expected returns and are most likely to experience the harshest pullbacks (i.e. US large cap equities).
Is your portfolio avoiding unnecessary risks and investing more into better long-term opportunities?
Looking forward to the rest of 2018 and beyond, it's unclear whether the current positive momentum in markets will be able to continue much longer or whether the technical indicators (momentum) will shift more in line with the fundamental indicators (valuations).  Regardless of when or how the shift occurs, it's critical that you keep in mind these low expected returns from a financial planning perspective, to ensure that you're still able to achieve your unique goals despite a low return environment. Whether it's a market crash, retirement concerns, divorce planning issues, or any other financial unknown, confirm with your own financial advisor that you're financially prepared for all that life has to throw at you.