Financial Analysis of Upgrading to the iPhone 7
Long story short, I shattered the screen on my iPhone 6 recently after two years of owning it without any issues.  The phone has worked great for me and isn't showing any signs of wear.  The battery still holds a charge just fine, it processes information as quickly as the day I first got it, I've got plenty of storage capacity, and potentially one of the most important considerations is that there's no hot/new device on the market that I'm itching to buy as a replacement… If you asked me a few days ago whether I was considering trading in my iPhone 6 for the new iPhone 7 that was just released, I would've quickly replied that I was happy with my current phone for the time being.  However, after shattering my phone screen and hearing multiple people say to me "Guess you should probably just go upgrade to the iPhone 7 now", I wanted to actually put some thought into whether upgrading is a good idea.
An economist might say that making consumer decisions is a logical process of supply and demand, where the consumer receives enough 'utility' from the product to justify trading dollars for the good.  Trying to determine the amount of 'utility' rationally is a whole other beast…  I was leaning towards just upgrading to the new iPhone 7, but my research suggests that I should actually be indifferent regarding the upgrade now that my screen is shattered…  If I were to trade in my 128GB iPhone 6 when it was in perfect condition last week, Verizon would've given me a $225 credit based on their appraisal estimator on their website.  On the other hand, my current 128GB iPhone 6 with a cracked screen appraises at $112.50 for trade-in.  Considering the $109 fee that I could pay Apple to replace my broken screen, I would only save $3.50 if I went to all the trouble of getting the screen fixed before trading it in at Verizon.
Yeah, it does stink that I made the $109 mistake of dropping my phone the other day, but I'm making the case that acting rationally from an economic perspective means that my preference toward upgrading to the new iPhone 7 should remain constant if nothing else changed.  All I need to do is spend the $109 to fix my screen and I'm theoretically back exactly where I started, with an iPhone 6 that I'm happy to continue using for the foreseeable future.  I did a cost analysis, seen below, to help clarify my options and the costs associated with each to help further clarify my decision.  Options 2-7 work out to have effectively the same costs as seen with Options 8-13, showing that the effect of having a broken screen right now shouldn't have much of a factor on my decision.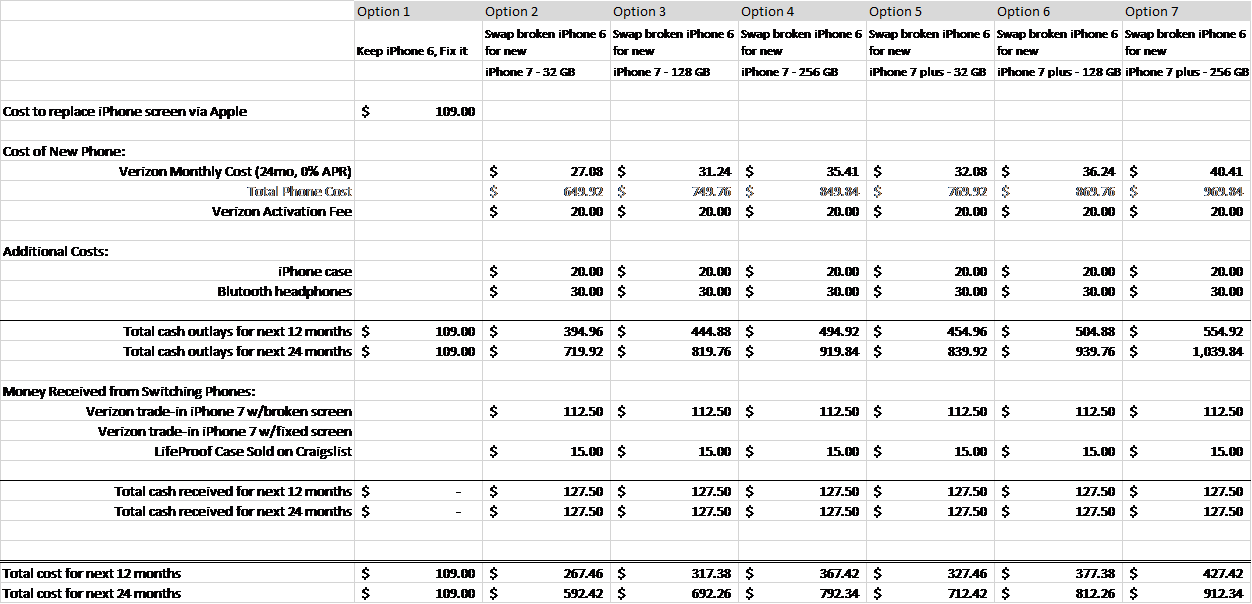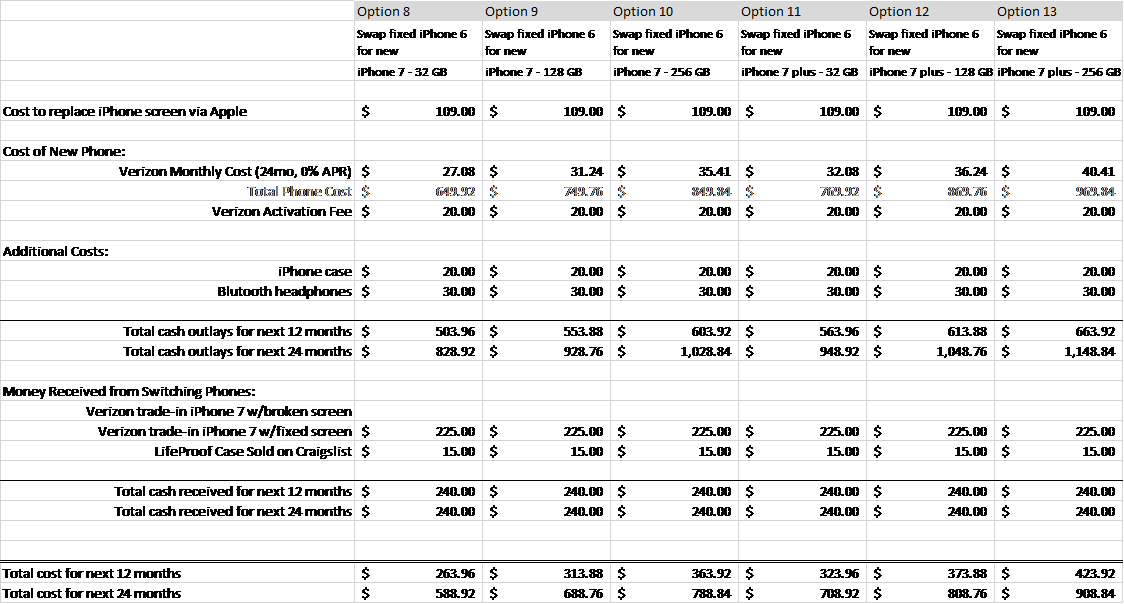 Other considerations are how much my time is worth and whether the time spent fixing the screen on my iPhone could be spent on more important things that either produce more income or provide more utility, as well as the underlying assumption of how much longer I would be able to keep this iPhone 6 before 'needing' to upgrade…  For now, looks like I'll probably just get the screen fixed, save the additional $250+ I would've spent on an iPhone 7 over the next 12 months, and plan on buying the iPhone 7s when it comes out next fall.