Financial Independence
I consider myself privileged to have learned the value of money very early in my life, even though I grew up in a normal home without any major wealth. Starting before I could even ride a bike, my grammy and I would make a habit of getting up early on Sunday mornings to visit the flea market, where I learned how supply and demand clearly affected the value of items.  I learned what a dollar could buy me, what it was truly worth, how the cyclicality of demand for goods worked, and how to do a lot with only a little money. As my savings grew, I naturally applied my hobby of fishing and knowledge of investing to buying small boats in the off season and selling them for a profit during the springtime when demand spiked.  I even continued to scale my investment schemes once I got my driver's license, which enabled me to buy larger ticket items such as cars and motorcycles, with a keen eye to buy them at a discount to fair value, enjoy the use of them for a year or so, and then sell them for as much or more than I originally paid for them.  It was great whenever I was able to make money on a deal, but I was most happy about enjoying the process, knowing I was doing something I liked in the short-term, I wasn't financially committed to anyone through debt obligations, and I was making financial decisions that would have positive effects on my wealth in the future.
These approaches to handling my finances are some of the same reasons why I've ended up structuring my life as it is today. I used to tell my dad many years ago that I wanted to work at a hedge fund because of how rich I could get, but I later realized that wasn't the best path for me since it didn't align with my personal interests of flexibility, spending time with family, and generally living a balanced & healthy lifestyle.  Instead I chose a much more entrepreneurial path of working within an accomplished wealth management team, because I realized that annual income is only a third of the financial wealth equation.  The other two parts are your savings rate and how you invest your savings.  Don't get me wrong, having money is great, but it's not the only thing in life. I'm a firm believer in living a rich life both now and in the future – money is simply the tool that allows us to accomplish this.
In comes the incredible concept of Financial Independence (FI) that all of us are capable of achieving, yet few of us actually achieve.  FI describes a situation when you have enough passive investment income to live indefinitely off your investments and sustain your desired lifestyle. Most people that are striving for FI have the goal of early retirement, a radical approach to getting unstuck from the "rat race" of society. It often starts with a focus on living frugally now (living below your means, but not to be confused with being poor or unsatisfied in any way), investing in a variety of things, and reaping the benefits later in life (though clearly much sooner in life than those who aim for the "normal retirement age").
Reaching financial independence suggests that you could retire, but that you don't have to retire necessarily. Most of those who achieve FI early in life opt out of the traditionally accepted retirement of golfing every day or sipping cocktails on a beach…that may sound fun, but after a few weeks of that you might quickly find yourself bored out of your mind! Hopefully you like your current job and find your current lifestyle so rewarding that you'd choose to continue it, regardless of whether you achieve financial freedom today.  Joshua Sheats actually describes his ideas on the different stages of financial independence to further distinguish between the amount of lifestyle that can be bought with certain amounts of passive income, culminating in what he calls Financial Abundance. I've even heard some people refer to financial independence/freedom/abundance in slightly more profane terms to get the same general point across by describing this level of financial wealth as "F-you" money. In theory, once you have this wealth, you have the ability to basically say "F-you" to your boss or to any future business deal without it negatively affecting your standard of living. Not that you have the goal of saying this to anyone once you get enough savings and passive income, but more so that you know you're always able to operate in a manner that makes you happy, lives by your moral code, and doesn't force you to compromise what's important to you just to make a buck.
When regularly helping clients both define their financial goals and set a plan for achieving them, the traditional idea of going from "full-time employed" to "full-time retired" at 65 years old or some other arbitrary age often emerges as the most important goal, as if many people can't wait to escape their jobs and move onto something that matters more to them. I always do my best to make sure clients are doing what would make them most happy, but this traditional idea of retirement doesn't fit neatly into my personal financial plan.  As of now, I never plan to retire because my plan is to always be engaged, doing something that fulfills my constant desire for a challenge and a positive impact on the people around me. I thoroughly enjoy my work in wealth management- both in the challenge of designing specialized, resilient investment portfolios, and in engaging directly with clients to help them achieve what they desire most in life. Each day is a new day in this constantly evolving industry and market landscape, and I can see myself doing this for many decades to come.  However, my goal of financial independence in my 30s also necessitates a conscious focus on keeping my current living expenses below my means and investing my free money & time in a variety of other income generating sources, such as publicly traded securities, direct investments in real estate, writing a book, owning other side businesses, etc. It's incredibly important to me that I actively structure my life so that I can enjoy the current process of creating wealth and having a positive impact now, not just enjoy the benefits when I'm old later in life.
As the name implies, striving for enough passive income to support your needs is the path to financial freedom, but you'll find that the sense of freedom will extend into other areas of your life as well. Money can't buy you everything, but having significant passive income might be able to help you find a more fulfilling job, relieve the stress of affording your regular expenses, or eliminate the threat of going broke if you lose your job for any reason. Achieving your definition of financial independence should enable to you do what you desire most, whether that's spending more time with family, volunteering, donating to charity, or leaving a more positive impact in other ways.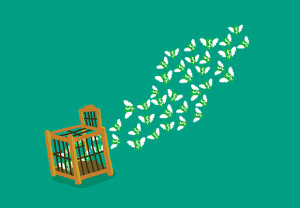 For more information about pursuing Financial Independence, here are some helpful links:
https://www.reddit.com/r/financialindependence
http://www.bankrate.com/finance/savings/declare-financial-independence-7.aspx
http://www.forbes.com/sites/nextavenue/2013/07/01/plan-for-financial-independence-not-retirement/#65c0145b4220